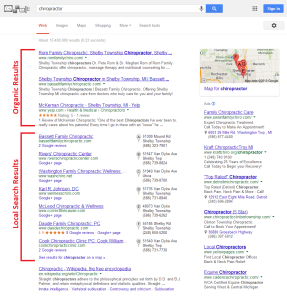 What is Local Search, Anyways?
Local search occurs when someone uses a search engine to find a product or service in their local area.
For instance, if you are a florist and a local customer types in "florist" or "nearby flower shop" in Google, your business location and website may appear on page one of Google's local search results. However, this only happens if your website is optimized with local search in mind.
In order for Google to give you priority in local search, you have to make it easy for Google to find the information it needs. Among other things, this means putting general business information in a particular format on your website. Our local seo plugin helps you do this if you have a WordPress website.
Keep in Mind:
Local search is possible because Google knows where people are searching from on their devices. If people are conducting a local search in the area where your business is located, you may show up.
You can rank in local search for keywords searched for by out-of-towners. For instance, if someone from San Diego types in "florist Detroit," (maybe their honey lives in Detroit), you could show up if you're a Detroit-based florist and your website is optimized for local search.
To appear in local search, you have to optimize your business website in a specific way. This form of optimization is known as local SEO.
Don't mistake organic search results for local search results. Businesses that show up in the former often serve the masses. Businesses that show up in the latter often serve specific local areas.
Does Your Business Appear in Local Search?
An easy way to find out is to perform a simple Google search on your own. Type in keywords you think your customers are typing into the Google search bar when looking for your product/service.
For instance, if you own a dentist office, type in "dentist office" and "dental practice" and "dentist." If you own a law firm, type in "law firm" and "law office" and "lawyer."
Is your business appearing in local search results?
If not, you're losing out on business – big time.
You can fix this though. With our local WordPress SEO plugin and local SEO services, you can rank for key terms when local people search for your product/service.